How Much Does Cabinet Painting Actually Cost?
Are you considering repainting your kitchen cabinets, but you do not have any idea how much it will cost you to repaint the entire kitchen or if it is reasonable compared with replacing the cabinets?
The cost of kitchen cabinet painting is surely one of the considerations people have in mind when they think of a kitchen renovation. People may want to try out new colours, but they are not sure how much it will cost them to achieve a brand new look.
Stylux Painting is here to answer your worries. We are a professional painting contractor that caters to clients in Calgarya nd nearby areas. We have a team of skilled estimators and expert painters who can provide you with an honest cost estimate and the best kitchen cabinet paint finish options to achieve a durable factory like finish quality.
The Factors Influencing the Kitchen Cabinet Painting Cost
When you compute the kitchen cabinet painting cost, there are several factors you need to keep in mind. These factors directly affect the total cost of your kitchen cabinet painting job. Labor, paint, and size of paintable area are some of the factors that you need to consider when quoting the kitchen cabinet painting cost estimate.
Cabinet Painting Cost is Affected By The Type & Quality of Finish
The higher the paint quality, the more it will cost. Different types of paint also vary in price. Some paints are more expensive than others because it has a better finish or more pigments and additives. One of the many benefits of hiring a professional painting contractor is that they can help you choose the best and most affordable paint to use for your kitchen cabinets.
The Equipment Required is Going to Impact the Cost of Painting Your Cabinets
The tools to be used in the painting process will also be included in the cost computation. High quality finish requires the use of high quality tools. We typically spray all the doors and drawer fronts with an HVLP professional spray system.  Air spray can be a more efficient means to accomplish the job and provide that factory smooth feel. However, if the kitchen cabinets have specific details, more traditional brush and roller techniques may also be incorporated in the job. Tools and supplies are included in all of our quotes to ensure professional quality kitchen cabinet finishing.
The Size of the Area – Bigger Kitchens Cost More Than Small Kitchens
The size of  your kitchen is the largest determining factor of how much it costs to paint kitchen cabinets. The number of cabinet doors, drawer fronts and gable ends, if there are crown mouldings, if there is an island and if multiple colours are beign used. The area to be painted will dictate the amount of paint needed for the job, the time it will take to finish the painting and the number of painters who will work on the project. These three important factors will all be determined by the area of the kitchen cabinet to be painted. This will dictate a chunk of your painting cost.
The Condition of Your Kitchen Cabinets May Impact The Cost of Painting
The cost of cabinet painting can be impacted by the condition of your kitchen cabinets. If the cabinets or cabinet doors and drawers are in good condition, they will take less time to prep and will not require as many repair materials. However, if the kitchen cabinets are in poor condition, it will take more time to prep the surface and consume more repair materials. As a result, the cost of cabinet painting may be higher if the kitchen cabinets are in poor condition. Therefore, it is important to consider the condition of your kitchen cabinets when budgeting for painting costs.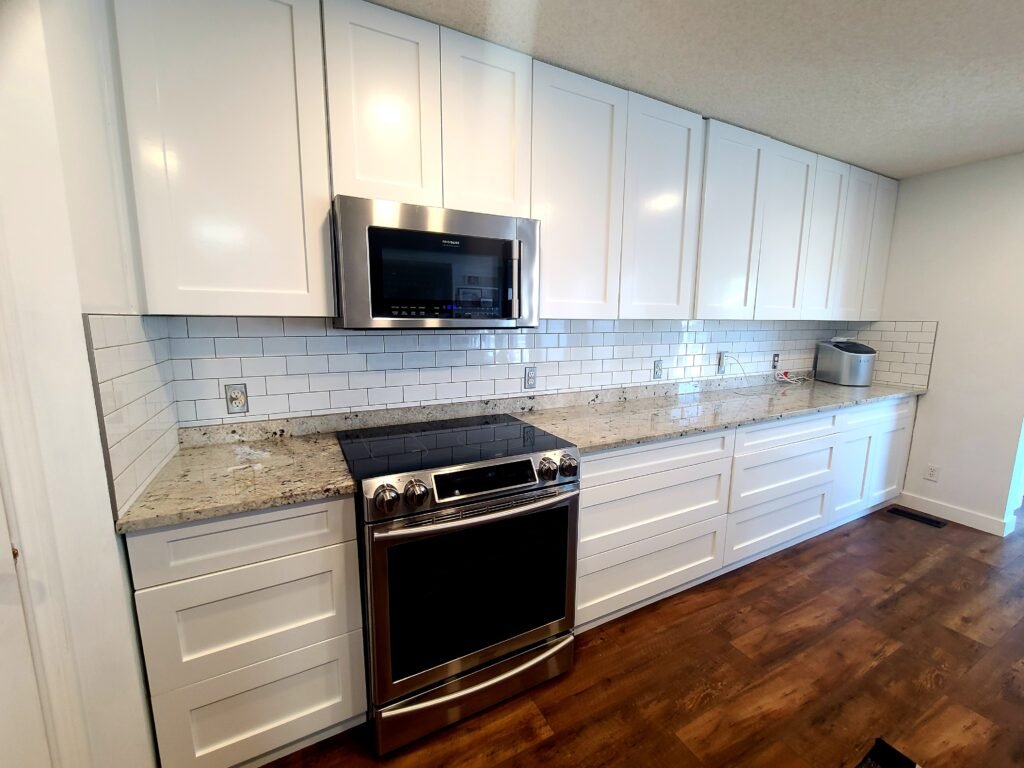 So How Much Will You Spend to Paint Your Kitchen Cabinets?
Stylux Painting is a professional painting contractor that can offer you the best deals for your kitchen cabinet painting project. On average, most cabinet painting projects typically range from $5,000 – $10,000 for a complete makeover. You can call Stylux Painting for an honest and precise cost estimate for your kitchen cabinet painting project. Hiring a professional painting contractor to work on your kitchen cabinets remains to be the best option for you. With Stylux Painting, you are guaranteed to get high-quality paint job results that will last for many years. You can trust Stylux Painting to get the job done right the first time. Call us today and let us help you transform your kitchen with a fresh coat of paint!