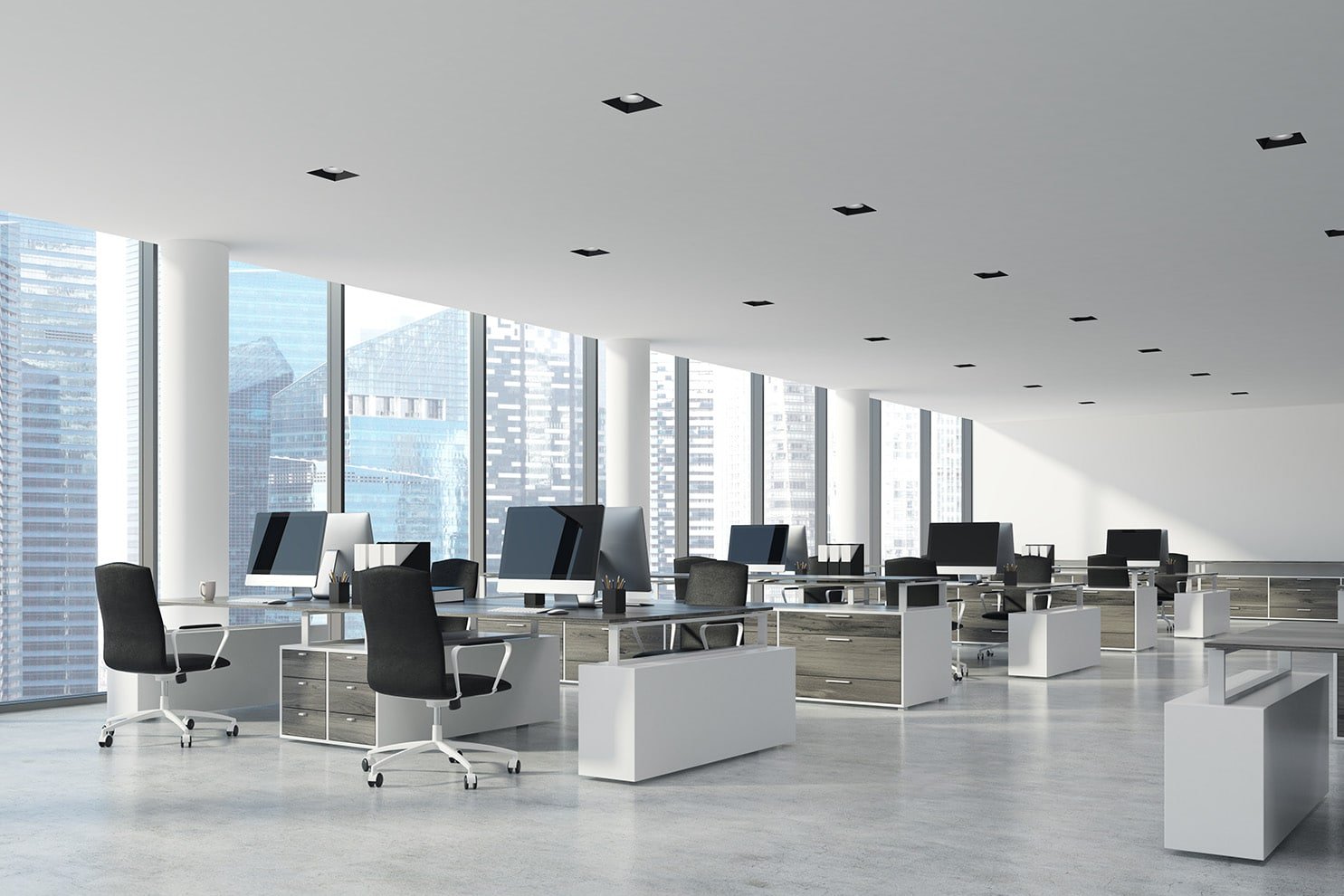 Quality Commercial
Painting in Calgary
Quality commercial painting in Calgary delivers not only a great impression – but also protection. Painting protects a commercial building in various ways. Not only does it protect your business structure and investments, but also your employees, clients, and your interests. A fresh coat of paint can make a world of difference for any commercial establishment. It can range from attracting more business prospects, boosting your employees' moods, and keeping a space fresh and healthy. At Stylux, we've seen how our work has transformed commercial spaces for the better firsthand. From restaurants and retail stores to offices and warehouses, Stylux has seen them flourish by simply providing a quality paint finish they love that reflects their innate value for others to see. Keep your business looking dashing from the inside and outside today with the leading commercial painting company in Calgary, Stylux Painting!
Commercial Painting
Services You Can Rely On
A Luxurious Touch to Commercial
Interior Painting
Never underestimate the power of paint. At Stylux, our commercial painting contractors provide you with a thorough colour consultation to achieve the look and feel you want for your space. With our quality commercial interior painting, you can find the right hue to improve relaxation, productivity, aesthetics, and mood greatly.
Nothing helps boost business more than a fresh coat of paint. We've helped local businesses like small coffee shops & boutiques stand out. With Stylux-level painting, customers will marvel at your space's interior.
From our experience painting, we know how certain colour aesthetics can greatly improve workspaces. Whether it be retail stores & offices, our detailed colour consultation can help improve employees' productivity & mood.
No commercial painting job is too big. Stylux has plenty of experience painting commercial spaces as big as industrial factories & warehouses. With our good health & safety record, you can expect high standards of excellence.
Make An Impression With
a Fresh Coat of Exterior Paint
Our commercial painting services not only make your building look good inside. With our talented team of commercial exterior painters, we can bring style and luxury to any commercial building's exterior. No matter how big or small, you can guarantee a quality paint finish every time with Stylux Painting!
Luxury Finishes Unlike Other Calgary Commercial Painting Companies
See Why Others Go For The Stylux Experience
"Excellent company to work with!"

Very prompt in replying to messages and questions. Tomas and Martina are very professional and respectful of your time and belongings. They painted the whole common area (upstairs and main floor) and did not leave without walking around and making sure all was cleaned up and that we were happy with their work. Fast, efficient and lovely to work with! Would definitely recommend!
"They did a great job"

Tomas and his team just finished painting our basement development. They did a great job with spraying all trims and doors and rolling all the walls. And even better they were super flexibly on timing (as we had to reschedule them multiple times due to every other trade not getting done on time). Tomas and his team were awesome, thanks!


"Every detail was absolutely perfect"

The Stylux team came into my home to do a full kitchen cabinet refinish and paint several rooms. I was blown away with the quality of the work and the attention detail when refinishing the cabinets as well as my fireplace mantle. Tomas went over and above to make sure every detail was absolutely perfect. I will absolutely be using them again for any painting I need done in the future.
No Paint Job Too Big For Our
Commercial Painting Contractors
You deserve a stylish, luxurious paint finish to your commercial building's interior and exterior. Working with us, we ensure minimal inconvenience during the painting process while getting the job done right. Whether renovating or repainting your commercial building, we promise our painter can do so quickly, precisely, and excellently at a reasonable price. Work with one of the top commercial painting companies in Calgary. 
Frequently Asked Questions