Why Should You Paint Your Kitchen Cabinets
It is quite stressful to work in an old and dark kitchen. The outdated kitchen cabinets and drawers can be difficult in the eyes and affect the ambiance of the kitchen atmosphere. Most of our time at home, we spend at the kitchen preparing and sharing meals with our families. We even spend much time when relatives or friends come over. The kitchen serves as an extension of the living room for hosting gatherings and reunions.
It is unappealing for guests to be in a messy and unkempt kitchen. However, you can put away your troubles. Stylux Painting can help you transform your kitchen from boring to astonishing. With our team of professional kitchen cabinet painters, we can guarantee to elevate the modernity of your old kitchen cabinets and improve the ambiance of your kitchen.
Benefits of Painting Kitchen Cabinets
It gives a whole new appearance to your kitchen.
The kitchen cabinets cover much of your kitchen walls. This is the first thing that your visitors notice when they come to your kitchen. Kitchen cabinet painting can give your kitchen a whole look and a different atmosphere. It can improve the modernity and update the old kitchen cabinet doorknobs and drawer handles.
It takes less time to finish.
Home improvements such as kitchen cabinet repainting will disrupt the usual house flow. The disruption is dependent on the longevity of the painting project. Repainting the kitchen cabinets will take less take time to finish than replacing the entire kitchen cabinet set. The kitchen is one of the most frequently used areas in the house, and the kitchen cabinet replacement will hinder access to the kitchen for a much longer period. Painting is less invasive and faster to finish.
It can elevate the market value of your house.
It might be unusual, but the kitchen can be a selling point to your house hunters. When people are searching for a house, they scrutinize every corner of the house, and worn-out kitchen cabinets might not be pleasant in the eyes. This is a good investment as it justifies the value you put up for your house. This is a cost-effective means to improve your house without breaking the bank.
It gives leeway for personalization.
Who does not want a personalized kitchen? Working at a station with your favourite colours at your sight is a delight. You can choose the best colour that speaks to your inner desire and personality. It will be easier and more comfortable for you to work at a place where you feel at home.
It is cheaper than kitchen cabinet replacement.
Worn-out and faded kitchen cabinets don't mean you need to replace them immediately. Before purchasing a new set of kitchen islands and cabinets, you may want to evaluate the condition of your kitchen cabinets. Repainting them might be a better and cheaper option especially if they are still in good condition with minimal damages.
It protects the wood.
Due to prolonged exposure to heat and moisture, the kitchen cabinets can be a nesting ground for moulds, mildew, and dirt. These contaminants can ruin your kitchen cabinet integrity and rot the woodwork. A protective coating will guarantee the lifespan of your kitchen cabinets. New paint products are now available in the market compared to older paints from years ago.
Repainting Kitchen Cabinets is environment friendly.
Preserving kitchen cabinets is a better option than producing another residential waste by throwing out a kitchen cabinet in good condition. This will help reduce the waste while saving money from making another unnecessary purchase.
Painting kitchen cabinets is a job for a professional painting contractor who can guarantee the best finish for your kitchen cabinets. They deliver the standard quality and client expectation. Stylux Painting offers quality kitchen cabinet painting for our clients in Calgary and surrounding communities.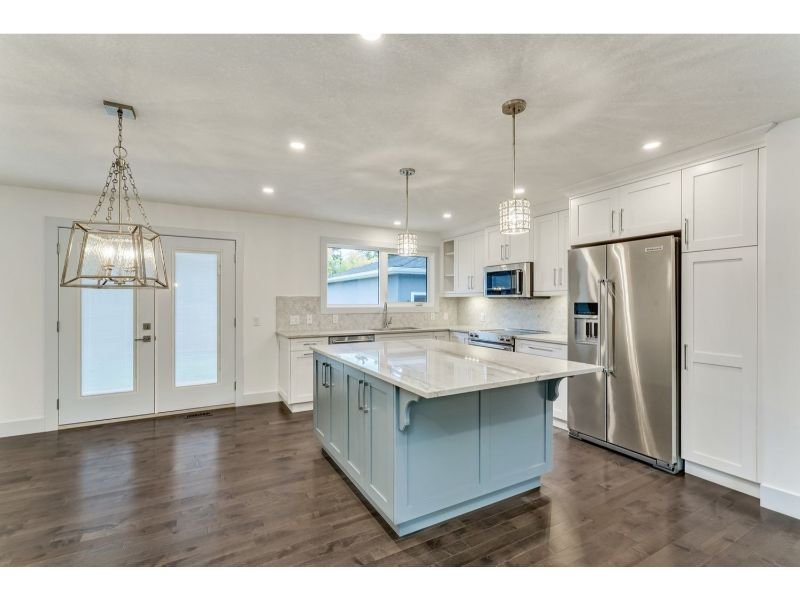 Painting Your Kitchen Cabinets is A Great Idea!